---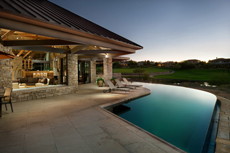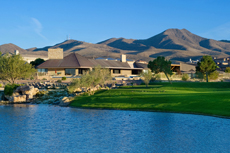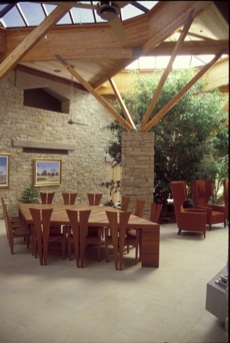 These nature-loving Owners purchased property with a stunning view overlooking a lake and a golf course towards the City of Las Vegas below. Unfortunately, there were no trees on the site. So, nature was made an integral part of the house by designing an interior skylit garden, complete with an indoor/outdoor koi pond and huge ficus trees, and by a long infinity-edged pool that blurs the distinction between the pool and lake. This conservatory is essentially an exterior space, and access to the children's' upstairs bedrooms is through this garden. Cooled by an evaporative air system, the garden serves as the formal dining room.
The design was inspired by the history of mining in Nevada, and was created to resemble an elegant silver mine with tall stone walls, stone floors, and roofs propped up by wooden beams. Horizontal steel beams criss-cross in a triangular pattern, and cantilever 16' to provide shade from the fierce Nevada sun.
Some years after the home was built, the adjacent property was purchased. The structure of the atrium was extended to become the entry loggia. This loggia, landscaped with trees, fountains and stained glass, connects the home with another garage (the owner is a car dealer), a guest bedroom, an exercise room, and a half-court, regulation NCAA basketball court.

Additional Photos of this work
---
Copyright © 2011 Gordon Rogers Architect Inc. AIA